New Hampshire State Liquor Commission, Division of Enforcement Supports NHIAA's Life of an Athlete Virtual Endeavors to Keep Kids on the Right Path
The New Hampshire Interscholastic Athletic Association (NHIAA) is proud to announce that the New Hampshire State Liquor Commission (NHSLC) has stepped up its support of the organization for the 2021 Winter and Spring athletic seasons. The NHSLC will work alongside the NHIAA's Life of an Athlete program during the NH Student Leadership Virtual Speaker Series with additional opportunities for engagement and education throughout the Winter and Spring aimed at stopping underage drinking.
"As a parent, I have a deep conviction for keeping our state's children safe," said Chief Mark Armaganian, Director of NHSLC's Division of Enforcement and Licensing. "Our officers know that a solid foundation of education will not only help us work towards eliminating underage drinking, but also keep our roadways safe and minimize impaired driving. We enjoy working in creative ways with the NHIAA to reach student-athletes, their peers, and those who support them at school and at home."
"We are honored to have the continued support of the Enforcement Division," said Jeff Collins, Executive Director of the NHIAA. "This partnership is a true collaboration that allows us to enhance our substance misuse prevention efforts and highlight resources available to keep kids, especially our student-athletes, on the right path."
Administrators, coaches, student-athletes, and family members can view and register for topics in the Student Leadership Virtual Speaker Series by clicking here. Speakers will provide an interactive virtual environment for students and adults to listen and ask questions. Topics include defining leadership, mental health, making good decisions, alcohol & substance misuse, goal setting, nutrition, and more.
More About the New Hampshire State Liquor Commission
The Enforcement Division of the New Hampshire State Liquor Commission works to make sure that you New Hampshire residents are aware of the right path and how to stay on it. Choosing the right path regarding alcohol consumption is not a tricky thing, but too many times the issue is clouded by our behavior and decision-making. Those decisions can put one on a path filled with consequences that last just moments or, even worse, for a lifetime.
###
Media Contact:
Jenna Raizes
Corporate Partnerships, NHIAA
jenna.raizes@teallpropertiesgroup.com
(603) 969-5515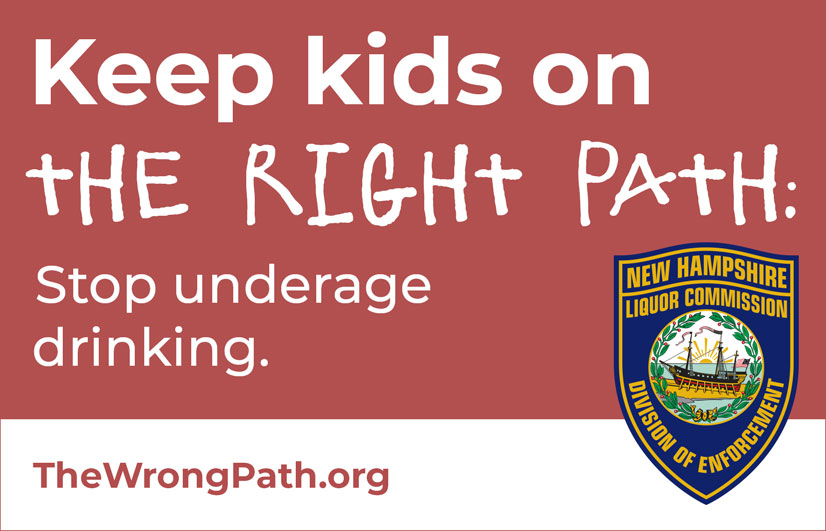 ---