14th Annual NHIAA Athletic Administrative Assistants Conference
The 14th Annual NHIAA Athletic Administrative Assistants Conference was held on Thursday, January 16th and Friday, January 17th, 2020 at the Red Jacket Resort in North Conway, NH. The Conference is offered to all of those interested in working through the daily issues associated with school-based athletics at the school level. The information covered at the Conference range from Schedule Star and the NHIAA website, to things that administrative assistants may do outside of the NHIAA but are seeking a better or easier way to get through the day. The 2020 Conference would have been, to date, the most attended conference with 25 people, including four Athletic Directors, in attendance. We had some weather come in on Thursday, thus preventing some from traveling. However, we had more continue to travel to the Conference despite the weather, THANK YOU! The sharing, assisting, and bonding that takes place at this Conference is irreplaceable.
The NHIAA would like to recognize those schools in attendance and share some of the comments made by the attendees this year. Thank you to Alvirne High School, Bedford High School, ConVal Regional High School, Dover High School, Farmington High School, Gilford High School, Hinsdale High School, Kingswood Regional High School, Laconia High School, Nashua High School North, Newport High School, Oyster River High School, Pinkerton Academy, Plymouth Regional High School, Salem High School, Stevens High School, and Winnisquam Regional High School.
"It was a relaxed conference and was very easy to ask questions relating to the job," Cheryl, Gilford HS.
"All/Any new admin/AD should go to this a few years in a row. It's the best place to pick up new things and talk about 'how do you do this' and get new ideas or tweak what you currently do," Holly, Salem HS.
"We use these computer systems every day. Some use it more than others. However, we all have little tricks to our trade and it is very beneficial to share. Not only that but it is invaluable for the rapport building experience. We are usually in the office emailing, calling, and trying to get things done. To have a conference to review, confirm, and learn something new while gaining a human relationship is great. It makes the people we work with daily less of just an email but a real person," Kristin, Bedford HS.
"Even if you have been doing this job for a long time, there is always something new that you can learn. Rules, deadlines, requirements, and expectations often change too. We not only discuss the expectations of the NHIAA and Schedule Star and how to manage those pieces of your job, but we are also able to share the shortcuts and tricks we have created for ourselves that make us more efficient in our work. We also have a lot of fun together too. If you decide to attend, you will not be disappointed," Vicki, Winnisquam.
"The camaraderie was AMAZING!! Also, I found it very helpful getting to know Donna. It made me feel a lot less intimidated if/when I ever need to contact the NHIAA," Serena, Laconia HS.
Planning is currently underway for the 15th Annual NHIAA Athletic Administrative Assistants Conference next year. For more information about this Conference, please contact Donna Plumb at the NHIAA Office.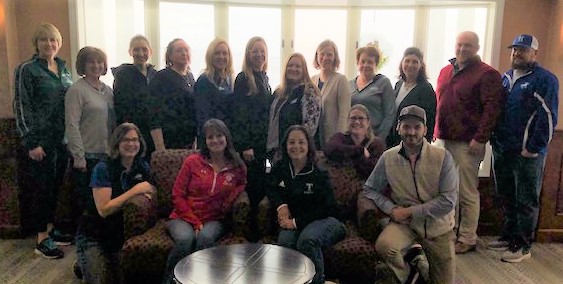 ---