Community College System of New Hampshire Partners with NHIAA
The New Hampshire Interscholastic Athletic Association (NHIAA) is proud to welcome the Community College System of New Hampshire into its growing family of partners. CCSNH will look to inform student-athletes and their peers and families about the affordable, accessible, quality education that is delivered through its statewide system of colleges.
"New Hampshire's Community Colleges are dedicated to the educational, professional, and personal success of our state's students," said Shannon Reid, Executive Director of Government Affairs and Communications for CCSNH. "Working closely with the NHIAA, we know that we can reach those who are actively looking for affordable tuition in their own home state as a foundation for transfer or a career."
"A partnership with CCSNH is an obvious one for our organization," said NHIAA Executive Director Jeff Collins. "We are able to reach administrators, coaches, and families who all work together to support our high school student-athletes as they plan their next steps after high school graduation."
New Hampshire Community Colleges prepare students for in-demand careers and offer a quality, local foundation for students' continued education. While representatives from CCSNH will attend state championships in the Spring of 2021 to support the participants, prospective students and their families are also able to access information regarding CCSNH's programs from NHIAA.org as part of the new year-long partnership.
About Community College System of New Hampshire
The Community College System of NH consists of seven colleges, offering associate degree and certificate programs, professional training, transfer pathways to four-year degrees, and dual-credit partnerships with NH high schools. The System's colleges are Great Bay Community College in Portsmouth and Rochester; Lakes Region Community College in Laconia; Manchester Community College; Nashua Community College; NHTI – Concord's Community College; River Valley Community College in Claremont, Lebanon and Keene; and White Mountains Community College in Berlin, Littleton and North Conway. The seven community colleges in the system are committed to working with businesses throughout the state to train and retain employees to develop a robust workforce across all sectors. CCSNH embraces the "65 by 25 Initiative," which calls for 65% of NH citizens to have some form of postsecondary education by 2025 to meet future workforce demand.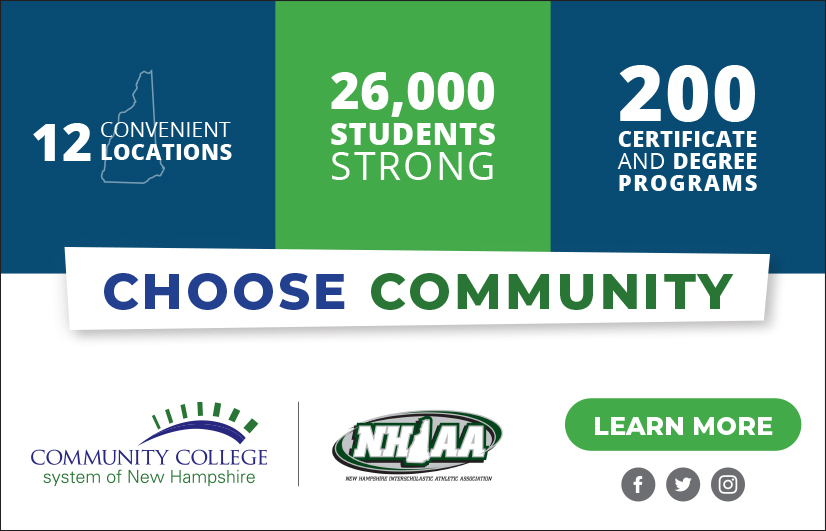 ###
Media Contact:
Jenna Raizes
Corporate Partnerships, NHIAA
jenna.raizes@teallpropertiesgroup.com
(603) 969-5515
---