Kingswood Ice Hockey supports community youngster
Members of the Boys Ice Hockey team at Kingwood High School in Wolfboro, NH have dedicated their 2016-2017 season to a young member of the community who was injured ina skiing accident. Nine-year-old Grady received a great deal of love and support from the community, but the KHS Boys Hockey team wanted to take it a step further by dedicating their season to Grady.
When Grady was well enough to visit the team, he was able to see the team's game against Keene and go in the locker room with the team. The players and coaches presented him with a jersey signed by the team. The spirit Grady has for coming back from such an injury has sparked inspiration for the KHS hockey players.
We congratulate the KHS Boys' Ice Hockey players and coaches for their support of a community member in need. We wish Grady all the best as he continues to recover. Thanks to Joshua Spaulding of Salmon Press, you can read more about Grady's story here.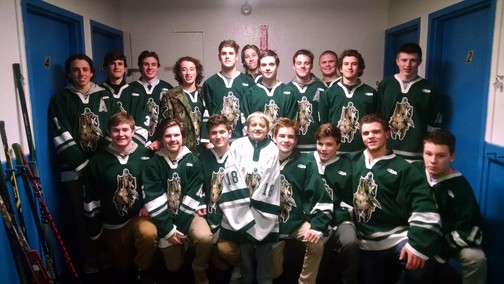 ---