Aroma Joe's of NH | Student-Athlete Scholarship
Sanford's Tremblay Wins Aroma Joe's® of ME Development Office $1,000 Scholarship
A 2023 Coe-Brown Northwood Academy (CBNA) graduate, Sheldyn Fisher, was recently awarded the $1,000 Aroma Joe's® Student-Athlete Scholarship by Aroma Joe's® of New Hampshire Development Office. This is the first award provided by the locally-based chain in partnership with the New Hampshire Interscholastic Athletic Association (NHIAA).
The Student-Athlete Scholarship is funded by Aroma Joe's® and awarded to a senior who displays excellence in the areas of academics, athletics, and community service. Seniors set to graduate in 2023 were eligible to apply, and 187 applications were received by the NHIAA.
Fisher is set to major in Biology at Middlebury College, and she departs high school as a highly decorated student-athlete with highlights including:
Completing Honors and AP Biology, Honors and AP Chemistry, and Honors and AP English
Overall GPA of 99.138
Participated in National English Honor Society, National Honor Society, National Spanish Honor Society, and Student Athlete Leadership Team
Varsity Cross Country team (4 years), Varsity Track & Field (Jr./Sr. Seasons)
2020 Cross Country State Champions
All-Division Cross Country Team (place in Top 10; 4 years)
2022 Track & Field State Champion (1600m) and Team State Champion
2023 Track & Field Team State Champion
"Having had to work through COVID cancellations, persevering through injury, and finding success with my teammates and individually contributed to me having a great athletic experience at Coe-Brown," said Fisher. "I was bettered as a person and an athlete over my four years, and I am very grateful."
Outside of her school commitments, Fisher's volunteerism impacted many members of the running community. She has volunteered at the NH Senior Games Track and Field event and for the NH Thunder middle and elementary school cross country and track programs. Fisher even directed her own 5K for her senior project that allowed community members to traverse the cross-country course.
"Helping at the NH Senior Games showed me how much sport means to people, and regardless of age all can participate and compete to the best of their ability," said Fisher. "Without the help of volunteers these athletes would not have gotten the opportunity to compete and show all of their hard work and training they do outside of the competition." On the other end of the age spectrum, Fisher finds it fun to share her love of running with the youth of the NH Thunder program who look up to high school student-athletes and view them as role models.
About Aroma Joe's®
Founded in 2000, Aroma Joe's® is a local destination for handcrafted coffee and espresso drinks, unique flavor infusions, signature AJ's RUSH® Energy Drinks and all-day food offerings served with positivity, in a friendly and upbeat environment.
Aroma Joe's® is a Registered Trademark of AJ IP Holder, LLC. © AJ IP Holder, LLC.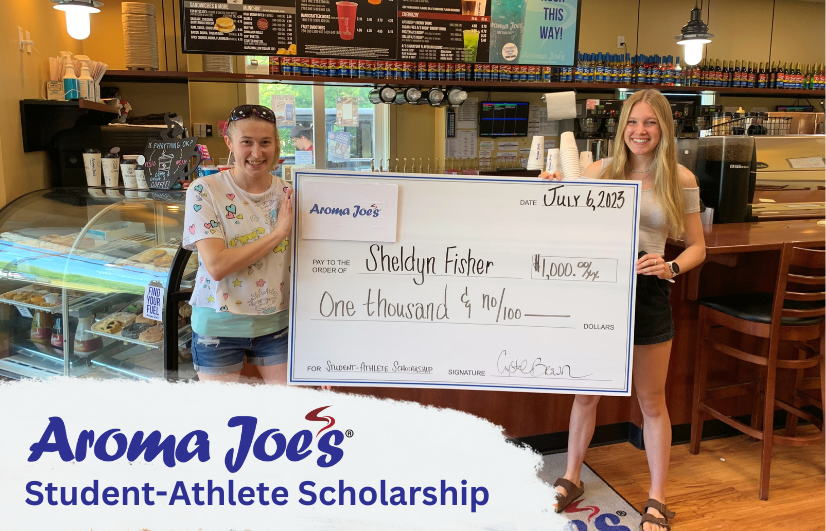 Pictured from left: Ashlet Guest, Co-Manager for Aroma Joe's®, Lee (NH) and Sheldyn Fisher.
###
Please check back in January 2024 for updated scholarship application.
---